SMRGC wins the Guilford Trophy 2017!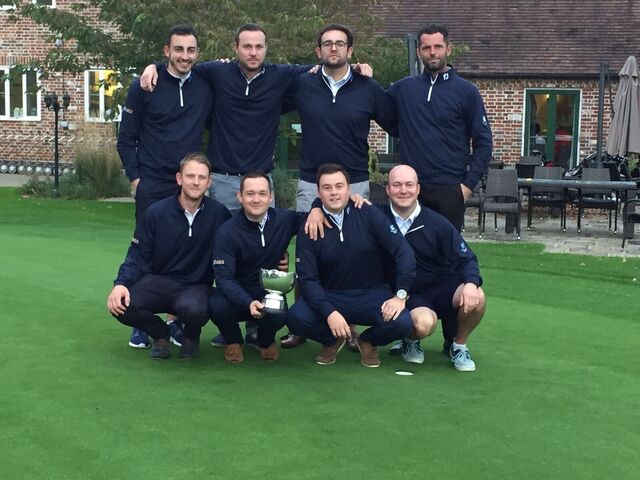 SMRGC Guilford Trophy Team
Guilford Trophy Final held at Nizels against Walmer and Kingsdown. The Guilford Trophy is a County Scratch knockout competition ran throughout the year.
Nizels was fantastic. It had 5 par 5's and 5 par 3's which led to lots of birdies and even more fun.
Our team of 8 for the day was Lloyd Edwards, Alex Foy, Luke Cullum, Ben Bradshaw, Ian Smith, Louis Taylor, Paul Cobb, Lewis Smith. We've actually used 12 players this year over the 5 rounds. The other guys part of this year's winning squad were Darren Martin, Matty Williams, James Cooper, and Steve Rawdon. (They now call me 'The Scout')…
Our team were 3.5 to 0.5 down after the morning foursomes matches… so we had it all to do in the afternoon. We managed to win the first 5 five singles matches which meant we only needed 0.5 from the last 3 games to win on hole difference! We managed to get one win and two halves from the final 3 matches which meant victory 7.5 to 4.5 without a single player in our team losing a singles match!
It really was a brilliant afternoon, all the team performed heroics. One of the many highlights was our Luke Cullum, who was out 6th, holing his second shot on the par 4 17th from 110 yards to go all square in his match… He went on to halve his match and pretty much sealed us the deal. This is the kind of heroics our team were producing!
We had great support from the mums and dads, thanks for all who came and supported us. Walmer had a few supporters which all added to the occasion. Big thank you to Melvin Head who organises the Guilford year after year, he was present at the final announcing all the players on the first tee and was acting as the referee for the day.
Finally a huge congratulations to our whole squad this year on winning the Guilford Trophy !!! You've all been mega! I've loved being your captain for the year!

Lewis Smith - Guilford Trophy Captain